Poll of the Week: On-Premise vs Off-Premise Clubs What's your preference?

Weekly Chat: Join us for chat (now available on your mobile device) - We now have 2 weekly chats. West Coast Chat is Sundays at 7pm PST, and East Coast chat on Wednesday night at 8pm EST. Of course, you don't have to be on the West Coast or East Coast to join in either chat, just attend the the one(s) that fit your schedule.




For our full listings of clubs and club reviews be sure to visit http://www.swingersboard.com/clubs/

If you would like to submit a review of a club you have visited, please use the link provided above, find the club you wish to review, then select "post a review" from the clubs listing.

To have your club listed on the Swingers Board, use the link provided above and select the appropriate region. From the region page, select "add a club". If your club belongs in more than one region be sure to submit it to each one.
Featured Swingers
Swingers Message Board Digest
A big Swingers Board welcome goes out to all the new members who took the time to introduce themselves this past week: shysexysuffolk, NJFreeSpirtits, wyocock, austincooper62, badallan, Trans4mer54, loloz14, Tallcoolone2013, panmj, elchevy & caviarspring

. ; as well as all the other new members who haven't introduced themselves yet!

To introduce yourself and to read other's introductions go to:
http://www.swingersboard.com/forums/forumdisplay.php?f=19
wyocock has a question about "talking [his] wife into gangbang". Seren67 is a "Single female interested in swinging" following a recent divorce she is looking to explore her bi-side with some NSA fun. Bristol65 posts that it's "A year later and still talking" His wife originally brought up the idea of swinging but they've never acted on it, she recently shared that she's still very interested in seeing it to fruition.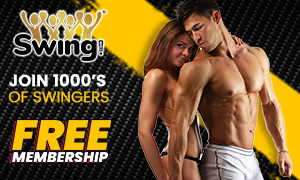 Playingnow posts "
Our loss has killed our lust
". Their son was killed which followed with major health issues, all of which has left him disinterested in swinging. Sweetdee posts that they are "
new here and need input/ help with one messed up situation
". Her husband brought another woman into their relationship without her approval. Now despite that the sexual involvement has ended he still keeps close contact with her and can't understand why his wife is upset. XploreFun is dealing with a "
Stop start stop road to swinging
". He'd like to see things get started again. wolff69 asks "
How do I learn to let go?
" She has a hard time just letting go and enjoying the moment. In shares the story of a couple they met that he turned down because he was annoyed that the guy couldn't hear. Months later his wife tells him that the one woman she would have considered bi-play with was that wife and now he wonders if he should "
Re-establish contact with them
."
81lizard69 started the "swing with us checklist", adding one item and asking others to add theirs. Chicup shared his "Freedom of the Seas 2013 Couples Cruise 'mini' Review". Sunbuckus shared about something she read where the person's view of swinging was that everyone was just seeking "Affirmation". Carebear started a thread on "that awkward moment". Trophy1802 asks "Anyone have their own private swinger site?" They are considering starting a swinger site for their local area. In "I'm retiring from this..." Chicup shares that he's passing the torch of being the swinger point man on to his wife.
mwseeking has a question about "poly at the workplace" regarding a woman he is interested in at work and thinks would make a great poly girlfriend, if it wasn't at work. DIgginIt created and shared an infographic "Single guy's guide to posting pictures". Chicup started the list "You know you're a swinger when..." Visexual shared their first "Wife swap.." Stephcolonie shared a first time experience in "Giving a friends husband oral since she does not like to". terryanddar ask if anyone has any good reviews for "trystmag or craigslist?" Angelkin is looking for feedback on "making the transition from couple to single swinging." She's had a hard time making the transition and wonders if others have felt the same. SW_PA_Couple asks "Is open marriage easier for those having a long-time relationship?"
To read all of the topics in this forum go to View the Rest of the Forums


Visit the Message Board
for all the great topics of conversation